My Personal Chart Blog January 11, 1981
The Sound of the Heartland Leads Down Many Paths, Including a Pivotal Moment in My Life
Part 2 is up on the blog page
MICHAEL STANELY BAND           He Can't Love You (1)
The early '80s was a major time for what is termed Heartland Rock and actually, the description didn't take form until some time in the '80s. Certainly, its origins come from the '60s and '70s, drawing from artists like Creedence Clearwater Revival, Bob Dylan, Bob Seger, and Bruce Springsteen. Though it is most associated with artists from the Midwest and Rust Belt, as evidenced by Springsteen certainly, it is more about a working-class ethos that brings together elements of rock, folk, and country. From the core of the sub-genre connections can be made to Southern Rock, Americana, Alt-Country, and even the current state of commercial Country.
The Michael Stanley Band's hometown is Cleveland, Ohio and they were superstars in their region. "He Can't Love You" embodies the playful side of the sound, incorporating the sax driven sound of upbeat Springsteen (Clarence Clemmons from the E Street Band provides the sax solo on this) and alluding to the powerhouse style that Huey Lewis and the News would expand upon throughout the decade. This is the side of this genre that I was most drawn to. Coming from their breakthrough album, aptly titled "Heartland", this single proved to be their biggest national success, reaching #33 on the Billboard Hot 100. Their 1983 song "My Town" also cracked the top 40 at #39 but bested 'Love You' in Pop airplay, reaching #29. They were able to land another single from the album, the ballad "Lover" on the Hot 100 at #68. I also charted the upbeat rocker "Carolyn" (#148) from the album. In total, they placed 7 singles on the Hot 100 between 1980 and 1983. Also, the lead track from the "North Coast" album in 1981, "In The Heartland" (a pattern emerges), made the Rock tracks top 10 and did quite well on my chart as well.
After 1983, the band sputtered out and Stanley has put out quite a number of albums in the last 30 years, but none have charted. In 1987 he became a local TV personality, on "PM Magazine" and then "Cleveland Tonight" and since 1990 he has been the afternoon DJ on Classic Rock station WNCX in his hometown. The lead singer on 'Love You' was Kevin Raleigh (he shared lead vocals with Stanley). Before his 10 years with MSB (as they were affectionately called by their fans), he had been in bands with ex-members of the Raspberries (also from Ohio) and with Neil Giraldo (best known as Pat Benatar's professional and romantic partner). He had a minor solo charter in 1989 with "Moonlight On Water" (Hot 100 #60). The following year Laura Branigan's version of the song went one step higher to #59.
Eric Carmen had been the lead singer of the Raspberries during their run from 1970-75, with 3 songs making the top 20; "Go All The Way" (Hot 100 #5) and "I Wanna Be With You" #16 in 1972 plus my personal favorite, "Overnight Sensation (Hit Record)", #18 in 1974. That song is one of the most important records of my childhood as it was on the first episode of American Top 40 that I had ever heard. It was for the Billboard chart the week of October 19, 1974, and the song was #30, up from #36. I had never heard it before, and this moment became the realization of what music I was missing on NYC radio. This also became the epiphany for me to commence my own weekly personal chart. A certainly pivotal moment in my life. The song is a Power Pop dynamo: understated verses, explosive chorus with layers and harmonies, a sax bridge, big drums, and a false ending. It was everything my 13-year-old-self wanted from a song. And it was about getting a hit record ("I just want a hit record, wanna hear it on the radio, want a big hit record, one that everybody's got to know". I need to pause and listen again. This is my life.
Another notable aspect of that week's American Top 40 countdown was that "Beach Baby" by First Class (a huge favorite of mine and my sister) dropped from #4 to #26, a seemingly precipitous drop. Both of these songs owe a lot to the Beach Boys, 'Sensation' more to the "Good Vibrations" side and this to the "Surfin' USA" side. Now I'm pretty sure I like this one more than any Beach Boys song because it came out a formidable time for me AND holds up really well. That week's chart featured the Southern Rock stalwart "Sweet Home Alabama" at #15 along with other personal favorites; Carole King's "Jazzman" at #5 with more saxophone, Reunion's "Life Is A Rock (But The Radio Rolled Me)" moving up to #21 (I couldn't get enough of the rapid-fire pop culture references), Kiki Dee's exuberant rocker "I've Got The Music in Me" debuting at #36 (another false ending) and her friend Elton John's "The Bitch is Back" moving up to #6 (ok so I must have really liked sax at this moment in time).
On this week's chart in 1981, Carmen's "All For Love" (#131) was not making a huge impact on me. Carmen had morphed into a reliable Pop balladeer but certainly had become a bit boring by this point. His first 2 solo albums were enjoyable for me and yielded a number of big songs for me. "All By Myself" and "Sunrise" in 1976 made my top 100 of the year with both growing in stature over time. The last time I re-did my top songs of '76 they came in at #10 and #15. An interesting thing about "Sunrise" is that the last third of this mid-tempo Pop song transforms into a blistering piano and guitar-driven rave-up. Actually, it's a full 2 minutes of the 5:22 song. I feel there are strong similarities to the ending section of "Love Lies Bleeding" by Elton John.
Neil Giraldo over the years has worked with Rick Derringer, Kenny Loggins, and Rick Springfield to name a few, but his collaboration with Pat Benatar is his signature calling card. They were introduced by songwriter and producer Mike Chapman, a notorious behind the scenes music guy. He and his oft songwriting partner Nicky Chinn contributed 3 songs to her debut album "In The Heat Of The Night", all covers of previous UK hits. Giraldo contributed the Hot 100 #16 song "We Live For Love", 1 of the few originals on that album. Benatar's song "You Better Run" was the second video played on MTV and was another cover, this time of the Young Rascals top 20 hit from 1966, something I was unaware of. 1981 was the breakthrough year for Benatar as "Hit Me With Your Best Shot" (#120) had just become her first top 10 on the Hot 100 the final week of 1980. Her album "Crimes Of Passion" would become her best selling with over 4 million sold in the States. It also led to her first Grammy award for Best Female Rock Vocal Performance. The controversial "Hell is For Children" (#17) was a Rock tracks #7 and probably my true favorite of her earlier songs (though 'Shot' at the time did reach #1 on my personal chart). 'Hell' was a #2 on my chart and "Treat Her Right" peaked at #3.
Benatar re-worked Kate Bush's "Wuthering Heights" (153)on "Crimes Of Passion" as well. She tried to emulate the sonic singularity of Bush to a degree at the beginning of the song but in the end, it's Benatar. The original song was a UK #1 in 1978 when Bush was just 19 years old. She was the first female artist to reach #1 with a self-written song in the UK. Since then, she has become a national treasure, winning the Best British Female Artist award in 1987. She has never won a Grammy though but nominated 3 times. In October 1980 her UK top 10 hit "Babooshka" reached #47 on my chart. It would be 5 years before she would show up again with 'Running Up That Hill".
I've written about Mike Chapman before, in reference to Blondie and The Knack. The Chapman/Chinn team were responsible for 19 UK top 40 hits and 5 #1's during just the period of 1973-74 including the Sweet song "Ballroom Blitz". Their biggest hit in the States before Blondie was 1978's #1 song "Kiss You All Over" by Exile while Chapman also produced Nick Gilder's 1978 #1 "Hot Child in The City". In the '80s Chapman continued a streak of big hits with songs like "Mickey", "Better be Good To Me" and Pat Benatar's "Love is A Battlefield". Exile had a song starting to move up my chart this week in 1981, "You're Good For Me" (108), that would peak at #16. It was not written by Chapman/Chinn but the songwriting team gave them their only other top 40 in the States, "You Thrill Me" and a top 40 hit in the Netherlands in 1982, the title track to their album "Heart And Soul". You might recall that Huey Lewis and the News reached #8 on the Hot 100 with the same song in the fall of 1983, the first single from their juggernaut album "Sports".
This now requires a look back. Huey Lewis (then Huey Louis) was a member of the Country-Rock band Clover in the mid-'70s. This was a San Francisco bay area band that released 2 albums in 1970 and '71 and ended up moving to England. That is when Lewis became involved and they released an album in 1997 called "Unavailable" produced by Robert "Mutt" Lange best known for producing albums by AC/DC, Foreigner, and Def Leppard as well as being Shania Twain's '90s producer and husband. In 1978 he also produced the album "Cabin Fever" by the Michael Stanley Band. Seemingly from left field, members of Clover became the backing musicians on Elvis Costello's debut album "My Aim Is True" though Lewis was not a part of that. Originally Stiff Records wanted Costello to be a songwriter for Dave Edmunds. Through Edmunds's reluctance, the demos were recorded with Clover members and those recordings convinced the label to put out his own album. Costello was still working his day job when the album was released and the record company asked him to quit, saying they would match his salary as well as recording equipment. He was featured on the cover of a music magazine within 3 weeks and claimed it was "an overnight success after 7 years" (insert Raspberries song). "Alison", "Watching The Detectives", "(The Angels Wanna Wear My) Red Shoes" are all now classics while the album is considered by many as one of the best of all-time.
After this aside, a second Clover album, again produced by Lange, was released in late '77 but the group soon disbanded after getting no traction with it. What is most interesting is where members went from there (but not back to Elvis Costello). John McFee joined the Doobie Brothers. Jeff Porcaro co-founded Toto (there has to be a six degrees of Toto thing, probably 3 degrees), Alex Call had a solo career and wrote the Tommy Tutone hit "Jenny 867-5309". John Ciambotti worked with Americana artists Lucinda Williams, John Prince and Carlene Carter. Carter herself, daughter of Johnny Cash, recorded 2 of Clover's Call-penned songs "Mr. Moon and "Love is Gone". Lewis and Sean Hopper went on to form the News with Alex Call contributing the song 'Bad Is Bad" to the album "Sports".
The actual formation of Huey Lewis & The News came from the melding with members of another bay area group called Soundhole. In a strange twist, that band had spent time backing up another well-known guy, Van Morrison. Three members of Soundhole joined Lewis and Hopper to create Huey Lewis & the American Express. Once they got a record contract with Chrysalis Records the name was changed to the News so as not to cause infringement issues with the credit card company. Their debut album came out in 1980 with an opening track "Some Of My Lies Are True (Sooner Or Later)" that placed them more in a Romantics/Tommy Tutone vein, a sort of New Wave/Power Pop sound that a lot of bands were trying to achieve at the time. It did not light up the charts. For the second album, the lead single "Do You Believe in Love" was written by Clover producer Lange and started their top 10 assault over the next 6 years.
The funny thing is just this weekend I was cataloging my old albums and cd's now that things are moving into my new music studio and I came across ex-Clover member Alex Call's debut album (this is among 1000's of albums and CDs I own), not knowing it would come into play with the narrative today. Such is my wonderous music life. Call's "Just Another Saturday Night (High School Killing)" fits the heartland mode we have veered so off-track from here. But that's part of the fun.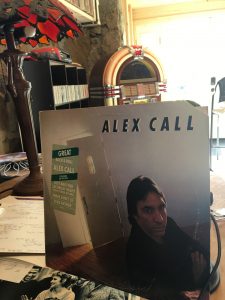 To be continued…