My Personal Chart Blog January 11, 1981
Part 3, The Sound of the Heartland: A Cougar is Created and Jacksonville Means Everything to Southern Rock
DELBERT MCCLINTON/Giving It Up For Your Love (21)
By the time Delbert McClinton had his first and only Pop top 10 hit he was 40 years old. His first appearance on the Pop chart was in 1962 was playing harmonica on the #1 "Hey Baby" by Bruce Channel. It was Channel's only top 40 hit. In 1965 the Lubbock, Texas native McClinton reached #97 as part of the duo The Ron-Dels with "If Really Want Me To I'll Go" and in 1972 hit #90 as part of another duo Delbert & Glen with "I Received A Letter". True to his Texas roots these songs all had a country bent to them.
I loved "Giving It Up For Love" and the b-side "My Sweet Baby", both reaching the top 10 on my personal chart. 'Giving' was a blues/soul/pop confection, totally in the later Huey Lewis mode. 'Baby' employed a more prominent blues guitar, and both were heavy on the horns. At the time I thought 'Baby' would have been a great follow-up single choice (it's not available on Spotify so seek it out on YouTube). Instead, they went with the more mid-tempo Country-Pop of "Shotgun Rider" which only managed a #70 peak. and then a ballad "Sandy Beaches" that just missed the Hot 100. He may have felt his blues chops were being diluted by the record company as he did not resurface until the late '80s when he was nominated for a Grammy for his 1989 live album "Live From Austin".
Now 50, in 1991 he won a Grammy for his collaboration with "Bonnie Raitt" on the funky "Good Man, Good Woman" and in '92 reached #13 on the rock chart with "Every Time I Roll The Dice", while in '93 his duet with Tanya Tucker "Tell Me About It" brought him to #4 on the country chart. Since then, he has won 3 more Grammys, the last in 2019. Nice later in life accomplishments. While cataloging all the music I own as I move things into my new music studio, I came across a cd single from another Texas blues rocker Ian Moore from 1993. It features 2 songs, "How Does It Feel" (which I remembered upon listening) and "Nothing", plus 2 interviews. I'm surprised he did not make any inroads on the rock chart. I've added a couple of his songs to my current playlist including the slow burn "Satisfied".
At this time in 1981, one of the biggest purveyors of heartland music was establishing his presence with his second album (well sort of). In late 1979 Indiana's John Cougar (Mellencamp) debuted on the Hot 100 with "I Need A Lover", which at the time, I was completely in love with. It was an interesting song in that the album version had a 2:28 instrumental intro that varied in intensity before kicking into the vocal. It was my #12 of the year back then but lost some of its luster when I re-did my 1980 charts last year.
In late 1980 the lead single from his album "Nothing Matters And What If It Did", "This Time" (90) was an instant pleaser for me and reached #1 on my personal chart. It fits in nicely with the McClinton hit, no horns, but just an easy-going heartland slice of Pop-Rock. This was actually his fifth album. In 1976 his actual first, "Chestnut Street Incident", was a commercial bomb, he was then known as Johnny Cougar. That name was bestowed on him by his manager Tony DeFries (who was also David Bowie's manager), which he did not know about until he saw the album cover. He objected but was told it would not be released if they didn't go with the name. He relinquished.
With the poor sales of that album, his label MCA refused to release his second album "The Kid Inside" and dropped him. He signed with UK label Riva Records (which he stayed with until 1985) founded by Rod Stewart's manager Billy Gaff, and released "A Biography" in the UK and Australia only in 1978. That album included "I Need A Lover" and the song became a top 5 hit in Australia. It would also appear stateside on his next album, 1979's "John Cougar". Pat Benatar covered the song on her 1979 debut album as well. After the success of Mellencamp's "American Fool" album in 1982 DeFries, his former manager, released the shelved "The Kid Inside" in 1983 to capitalize on his success while "A Biography" was remastered and released in the States in 2005.
Early songs like "American Dream" and "Born Reckless" are really not bad at all but Mellencamp is not a fan of his early music, and even with 'Nothing Matters' he said, "he takes no credit for that record" and of the label he said, "they thought I was going to turn into the next Neil Diamond". "This Time" brought him into the top 30 on the Hot 100 for the second time at #27 ('Lover' reached #28). The second single "Ain't Even Done With The Night" eclipsed that, going to #17. 3 other songs from the album would grace my personal chart, "Hot Night In A Cold Town" (56), "Don't Misunderstand Me" and "Make Me Feel". Of course, he really took off in '82 with "Hurts So Good" and "Jack And Diane", #2 and #1 respectively on the Hot 100. In total, he would make the top 10 on the Hot 100 10 times and the top 20 another 7 times. According to Joel Whitburn's "Top Pop Singles" book, Mellencamp was the #9 artist of the '80s and #68 of all-time on the Hot 100 overall.
I could be hot and cold with his music, but he did make my top 60 of the year 4 more times with "Paper In Fire" in 1987, "Love And Happiness" in 1991, "Human Wheels" in '93, and "Wild Night in '94. Johnny Cash considered him one of the 10 best songwriters of all-time, and he was inducted into the Rock & Roll Hall of Fame in 2008. In 1985 he was one of the organizers (along with Willie Nelson and Neil Young) of Farm Aid. The concert series has been going on yearly since then. The concerts have attracted a wide swath of artists from the Country, Rock, and Pop realms.
Another Indiana native, John Hiatt, shares a distinction with Mellencamp in that after his fourth album, 1980's "Two Bit Monsters" failed to chart in the States (it did reach #41 in Sweden), he was dropped from his record label, MCA again. Over the years Hiatt has been associated with 6 different major labels before settling in with the label New West which focuses on Alt-Country, Indie Rock, and Americana claiming to be "for artists who perform real music for real people". Delbert McClinton has also been on that label. Hiatt came onto my radar in 1985 with the song "Living Just A Little, Laughing Just A Little", a duet with Elvis Costello. Funny thing, his then record label Geffen dropped him after the album it was from failed to chart.
I just looked up the song's chart performance on my own chart in 1985 and was surprised it only peaked at #34 the week of July 20, one position lower than another heartland rocker, "Tough All Over" by John Cafferty & the Beaver Brown Band. The song had a weird descent, meaning it wasn't a natural incremental drop. It fell to 83 and stayed there for 2 weeks, then to 143 and stayed there for 2 weeks. 2 weeks later it was off the chart but what that indicates to me is that I was not ready to get rid of it quickly. Listening to it today I have a fonder memory of it than its chart peak would indicate. Back to Rhode Island's John Cafferty and his band. They had a nice run of 4 top Rock 10 hits between '84-'85, starting with "On The Dark Side" from the movie "Eddie and the Cruisers".
Hiatt's fortunes took a turn upwards after he signed with A&M. From 1987 through 1994 he placed 6 songs on the Rock charts with "Slow Turning" reaching the top 10 in 1988 at #8. In 1991 he was part of a one-off supergroup with Ry Cooder and Nick Lowe called Little Village. They had 2 songs on the Rock chart, one of them being the interestingly titled "Solar Sex Panel". Along with the fourth member, drummer Jim Keltner, all had worked with Hiatt on his breakthrough 1987 album "Bring The Family". That album featured the original version of his song "Thing Called Love", later to become a smash hit by Bonnie Raitt. It also includes one of his most well-known songs, "Have A Little Faith In Me", which strangely was never released as a single in the States. It was a top 20 hit in the Netherlands and also charted in Australia. I have a Ry Cooder album, "Borderline" from 1980, although I know I acquired it from someone who was getting rid of their record collection. It includes covers of Wilson Pickett's "634-5789" and Billy Joe Royal's "Down in The Boondocks", both hits in 1965.
Moving into the realm of Southern Rock, the next band took a cover version of an even older song into the Billboard top 40 in 1981 with "(Ghost) Riders In The Sky" (99). The Tampa rockers Outlaws are probably best known for "There Goes Another Love Song" and "Green Grass And High Tides", both from their debut 1975 album. 'Ghost Riders' was written in 1948 and was a #1 song in 1949 for Vaughn Monroe. It has been remade many times, from Lawrence Welk to Johnny Cash. In 1974 the band opened a show for another Florida band, the wildly popular Lynyrd Skynyrd. At that show was Clive Davis, president of the newly-formed Arista record label and Outlaws became the first band he signed (other artists like Barry Manilow and Bay City Rollers moved to Arista from Davis' previous label Bell).
'Green Grass' has been cited as being one of the greatest guitar songs of all-time. It has been said that the band was like other Southern Rock bands because of their dual guitar approach but they incorporated more Country influence, and their layered vocal harmonies were akin to bands like Poco and Eagles. Original member Henry Paul left in 1997 and formed the Henry Paul Band, recording 4 albums and charting songs like "Longshot" in 1980 and "Keeping Our Love Alive in 1982 (Hot 100 #50). These songs seemed to veer more towards the polished sound of .38 Special. He would return to Outlaws for a time and then in the early '90s formed the Country trio Blackhawk with Van Stephenson who has a top 25 hit in 1984 with "Modern Day Delilah" (also not available on Spotify). Stephenson had also written a handful of hits for the Country band Restless Heart in the late '80s. That band's one Pop crossover, 1987's "I'll Still Be Loving You", that reached #33 on Hot 100, is the first Country song to reach the top 10 on my personal chart since 1981. Blackhawk had a string of Country hits from 1993-2001 including 2 #2 songs, "Every Once In A While" in '94 and "I'm Not Strong Enough To Say No" in '95. Stephenson died of melanoma in 2001.
In 1977 a plane crash would kill 3 members of Lynyrd Skynyrd. The Rossington Collins Band was born out of this tragedy. Skynyrd members Gary Rossington and Allen Collins were both in the crash and survived along with members Billy Powell and Leon Wilkeson, all experiencing serious injuries. Wilkeson was declared dead at the scene (though he was resuscitated) and Collins almost had his arm amputated. In moving forward from the tragedy, a reunion seemed impossible and they wanted the new band to have distinction apart from Lynyrd Skynyrd. They recruited Dale Krantz as their lead vocalist and she eventually married Rossington in 1982. Their 1980 debut album "Anytime, Anyplace, Anywhere" produced the Rock hit "Don't Misunderstand Me" (#55 on the Hot 100 and #29 on my personal chart) with 2 other songs making my chart, "Prime Time" and "Getaway" (122). Collins became paralyzed after a 1986 car accident and died of pneumonia, a complication of the paralysis, in 1990 at 37.
The hotbed of Southern Rock was Jacksonville, Florida (home of Lynyrd Skynyrd and Rossington Collins) in addition to 3 bands that had much better success on my chart at the time. In October 1979 Blackfoot's "Highway Song" made it to #64 on my chart and was followed by "Train Train" in early 1980 reaching #4. Currently, both songs are in my top 25 songs of 1979, a big increase for "Highway Song". "Train Train" was only the second song from the genre to reach my top 5. The other was Skynyrd's "Free Bird" (which I don't think I ever need to hear again). It ushered in a mini-wave of songs in the genre to do well on my chart. In May 1980 Molly Hatchet re ached #3 on my chart with their signature song "Flirtin' With Disaster". Both bands had been tooling around since the early '70s but that '79-'81 timeframe was their sweet spot. Both had a handful more songs get radio airplay and chart action from me, including "The Rambler" (128) and "Baby Blue".
The other Jacksonville band, 38 Special, was formed by Donnie Van Zant and Don Barnes in 1974. Van Zant is the brother of Ronnie Van Zant (who died in the 1977 plane crash and co-founder of Lynyrd Skynyrd), and younger brother Johnny. Johnny became the lead singer of the re-formed Skynyrd in 1987 and in 1990 went to #1 on my chart with his solo single "Brickyard Road", an intense and heartfelt song about his deceased brother. Van Zant followed it with the fun "Hearts Are Gonna Roll", adding some horn work to the upbeat rocker. He's also had some success on the Country charts.
It was 38 Special that defined Southern Rock on my chart with over 25 songs over the next decade. "Hold On Loosely", the lead single from "Wild-Eyed Southern Boys" their 4th album, came out in January 1981. I had charted "Rockin' Into The Night" the previous year but this song had an instant effect on me. It brought in a Pop essence that would become a major aspect of their sound. While the overall genre faded to a large degree during the '80s, 38 Special managed to have a strong presence on Hot 100 and Pop radio through the start of the '90s. On the Rock chart, they were the #13 artist of the '80s with 10 top 5 chart hits plus another 12 lesser hits.
"Fantasy Girl" would be their second #1 on my chart in 1981. I now know what part of the Pop sensibility was. Both of these songs (along with 'Rockin') were co-written by Jim Peterik of Survivor, one of the major Pop-Rock bands of the '80s. He also co-wrote "Caught Up In You", their Hot 100 top 10 song from 1982 plus their third #1 on my chart, 1991's "The Sound Of Your Voice". On the band's second album the final track "Take Me Back" was written for his brother Ronnie and for the album they added 2 female backing vocalists, one of which was Dale Krantz who later went on to front Rossington Collins.
Part 2, The Sound of the Heartland. The California Sound and Country Crossover
RANDY MEISNER   Deep Inside My Heart (9)
Before Randy Meisner scored his first top 40 hit in December 1980 with this song, he spent most of the '70s in one of the most popular bands of all-time. In 1971 he was a founding member and bassist of the Eagles and the songwriter and lead singer on their hit "Take It To The Limit". The Eagles were certainly precursors to the heartland rock of the late '70s and beyond, perfecting the Country-Rock style that has become embedded in the contemporary Country music of the last 30 years. This week in 1981 their song "Seven Bridges Road"( 157) entered the Hot 100 top 40, the last single to do so until a reunion in 1994 that spawned the album "Hell Freezes Over" and the #31 song "Get Over It". Meisner, who had been replaced by Timothy B. Schmit after he left the band in 1977, was not part of this reunion.
Prior to the Eagles he was an original member of Poco between 1968-69, replaced again by Schmit (supposedly a messy parting), and part of Ricky Nelson's Stone Canyon Band from '69-'71. Nelson is credited with being an influence on what became the '70s "California Sound" that included artists like the Eagles, Jackson Browne, and Linda Ronstadt. Meisner also worked extensively with those latter 2 artists. Poco were on my chart this week with "Made of Stone" (54), their 4th song from the album "Under The Gun" to chart. The title track reached #12 on my chart back in the day as well as reaching the top 50 on the Hot 100. Even with the messiness of parting with Poco (the departure led to his removal from the band's debut album cover, to be replaced by a dog), 20 years after that in 1989 he joined a re-formed Poco for the album "Legacy". That album produced the top 20 "Call It Love" and he sang lead on the single "Nothin' To Hide".
In 1980 Linda Ronstadt made a radical change in direction from her Country leaning music to the trendier New Wave Pop. It was a gamble that worked, generating 2 top 10 hits ("How Do I Make You" and Hurt So Bad") and another top 40, "I Can't Let Go". That album also featured 3 songs from Elvis Costello's playbook, including "Girls Talk". That song was originally recorded by Dave Edmunds (remember that Stiff Records wanted Costello to write for Edmunds) in 1978 and became a top 5 hit in the UK and reached #65 on the Hot 100. Costello himself recorded it in 1980 and released it as the B-side to "I Can't Stand Up For Falling Down". At this point in time, Jackson Browne was still riding high on the success of his album "Hold Out", his only #1 album. He still had 2 songs from the record on my chart this week. "Hold On, Hold Out" (28) and "Disco Apocalypse" (41), a song that I briefly wrote about last year that did go to #1 on my chart in November. His song "Of Missing Persons" was written for the daughter of his friend, Little Feat's Lowell George, who had died a year earlier of a heart attack from an accidental cocaine overdose. That song and his top 25 hit "That Girl Could Sing" had just fallen off my chart in late 1980.
Lowell George had just released a solo album "Thanks I'll Eat It Here' in early 1979 a few months before he died. Little Feat disbanded a month later with George citing the democracy of the band being the leading factor. The band had been an influential part of the Country-Rock umbrella for 10 years, especially towards the Americana and Roots Rock side. "Willin'" and "Dixie Chicken" are 2 of their classic tracks. "Willin'" was actually part of the impetus to the formation of the band. He had been a member of Frank Zappa's Mothers Of Invention in the late '60s. Folklore presents 3 versions of why Zappa fired George from the band, all revolving around the song. Either it was because of drug references in the song, George playing a 15-minute guitar solo without his amp on, or merely Zappa feeling he was too talented to part of a band and not a leader. Who would remake "Willin'" but Linda Ronstadt. She also turned Little Feat's song "All That You Dream" into a Rock radio hit in 1978 in addition to getting airplay for her version of Costello's "Alison".
What happened to Randy Meisner? "Deep Inside My Heart" has a sound that fits into a similar Huey Lewis/Michael Stanley mode. A bit rootsy, but very Pop. He would reach the Hot 100 top 30 twice more, with the #19 "Hearts On Fire" (136), the follow-up single, and 1982's #28 "Never Been In Love" a song that would reach the top of my chart. Many artists he has worked with say the Nebraskan is one of the nicest people they know. One of those people is Kim Carnes, who sang with him on "Deep Inside My Heart". She was just outside my top 150 this week with "In The Chill of The Night" (163). 2 months later, at the end of March, "Bette Davis Eyes" debuted on the Hot 100 and went on to become the #1 song of 1981 as well as winning Record and Song of the Year at the Grammys. In its original incarnation, it was quite a different song. Unlike the ominous arrangement of Carnes' version, Jackie DeShannon, who co-wrote the song with Donna Weiss in 1974, does it in a Country-Soul almost Honky-Tonk style. A surprisingly playful version, DeShannon had 2 top 10 singles in the '60s, the #7 "What The World Needs Now Is Love" in 1965 and 1969's #4 "Put A Little Love In Your Heart". "Bette Davis Eyes" would top the Hot 100 for 9 non-consecutive weeks, broken up for 1 week by the song "Stars on 45", a medley of mostly Beatles songs by the Dutch studio group of the same name.
Carnes career actually began during the mid to late '60s timeframe as a songwriter. During that time, under a publishing deal with producer Jimmy Bowen, she rubbed elbows with Don Henley and Glenn Frey, who both were signed to Bowen's Amos Records label at the time. Henley was part of the band Shiloh and Frey was part of the duo Longbranch Pennywhistle with J.D. Souther. They released 1 album and 3 singles ("Don't Talk Now", "Lucky Love", and "Star-Spangled Bus") The label only lasted 3 years and did not garner any charting singles and only 1 charting album by Bing Crosby! in 1969. In 1971 they released Kim Carnes' debut album "Rest On Me", the last one before the label's demise. That included 2 singles, "I Won't Call You Back" and a remake of the Bee Gees 1967 hit "To Love Somebody". My favorite songs by Carnes are her duet with Kenny Rogers "Don't Fall In Love With A Dreamer", peaking at #1 on my personal chart in May 1980, and "Does It Make You Remember" in 1983.
Rogers own "Lady" (107) was just coming off a 6-week run at #1 on the Hot 100. His career started in the '50s and he dabbled in Rock 'n Roll, Jazz, Folk, and Psychedelia before settling into his Country crossover superstardom. In the '66-'67 timeframe, he was part of the folk group The New Christy Minstrels, the same time Kim Carnes was also a member. I am writing this as our new President is being inaugurated and as I came upon the wiki page for the folk band Jennifer Lopez was singing "This Land Is Your Land". As it turns out the New Christy Minstrels charted that song in 1962. I feel this could be a good sign. Of Rogers's 9 Pop top 10's there are 2 more duets, both from 1983. "We've Got Tonight" with Sheena Easton is a rare remake of a song I love that is nearly as good. "Islands in The Stream" with Dolly Parton (Happy 75thDolly!) is just an iconic piece of music history.
As Rogers was moving down the Hot 100 with "Lady", Dolly Parton was moving up with another iconic song, "9 To 5" (12), a song destined to be her first Pop #1. It has the distinction of being the 500th song to reach the top of the Billboard Hot 100 and only the second time a woman brought a song to the top of the Country and Pop singles chart, the first being Jeannie C. Riley with "Harper Valley PTA" in 1968. On my chart this week she also debuted with "Sing For The Common Man" (146). In an interesting twist of fate, Rogers duet partner Easton had just reached #3 on the UK singles chart in late 1980 with a song titled "9 To 5". In February 1981 it was released stateside and the title was changed to "Morning Train (9 To 5)" as to not be confused with the Parton hit that would hit #1 the week after Easton's song debuted on the Hot 100. Both songs ended up topping the Hot 100 for 2 weeks and respectively were the #9 and #12 song of the year.
Country crossover was a substantial part of the Pop music scene in 1981. Besides Parton and Kenny Rogers making the top 10 of the year ("Lady" was #3), the #8 song of the year was "I Love A Rainy Night" (8) by Eddie Rabbit. Another Hot 100 #1, it went to #5 for me, following the previous single "Driving My Life Away" into my top 5. I did not realize he was, like me, a New Jersey guy, raised not far from me in East Orange. One of his earliest successes was as a songwriter was penning the song "Kentucky Rain" for Elvis Presley in 1969. His own recording career started in 1974 (though he did have a couple of non-charting singles in the '60s). His crossover fortunes were aided by Rogers and Parton for whom he opened on concert dates. His Pop presence turned upward in 1979 with the movie theme "Every Which Way But Loose" and the R&B-tinged song "Suspicions". In total, he scored 8 top 40 hits through early 1983 with his duet with Crystal Gayle, "You And I". Rabbitt died in 1998 of lung cancer and it wasn't announced per family request, until after he was buried. "Short Road To Love" (170), the B-side to 'Rainy Night' was another song that I found interesting, and later in '81 "Step By Step" would bring him back to the Pop top 5 and "Someone Could Lose A Heart Tonight" to the top 15.
One of my favorite crossover artists was Ronnie Milsap. 2 of his songs made the Billboard Top 100 of 1981, "There's No Getting Over Me" at #33 and "Smokey Mountain Rain" (81) at #88. I believe I discovered him first in 1977 with the song "It Was Almost Like A Song", one of 35 Country #1 songs, putting him in third place behind George Strait and Conway Twitty. Milsap is also connected to the Presley song "Kentucky Rain" as he was a session musician on the recording while Eddie Rabbit wrote his first #1 song, "Pure Love" in 1974. In 1987, one of his later #1's was a duet with Kenny Rogers called "Make No Mistake, She's Mine" written by Kim Carnes. The song won the Grammy for Country Collaboration. 3 years earlier Carnes recorded her version with Barbra Streisand. In 2013 Naya Rivera and Chord Overstreet, in an episode of "Glee", took the song in a different direction, a man and a woman vying for the same girl. What a tragedy Naya Rivera's drowning was last summer. She was my favorite character on the show, followed by Puck (Noah Puckerman) played by Mark Salling who committed suicide in 2018. Sad the show has 3 deaths plaguing it (Cory Monteith died of an overdose in 2013).
Other big crossover hits in 1981 include the Oak Ridge Boys "Elvira", Alabama's "Feels So Right" and Rosanne Cash's "Seven Year Ache". Johnny Lee's "Lookin' For Love" from the "Urban Cowboy Soundtrack" made it to #8 on my original 1980 chart. He was also on my radar with "One In A Million" (97) and "Cherokee Fiddle" at the time. From 1982-84 he was married to Charlene Tilton who played Lucy Ewing on the TV series "Dallas". The "Urban Cowboy" album was a major player on the charts, reaching #3 on the Billboard 200 and churning out 6 top 40 songs on the Hot 100. Lee's song placed the highest at #5 and #1 on the Country chart. 2 others topped the Country chart as well, Mickey Gilley's version of "Stand By Me" (#22 Pop) and Anne Murray's "Could I Have This Dance" (#33 Pop). Kenny Rogers showed up with "Love The World Away" (#4 Country, #14 Pop) as well as a duet by the aforementioned Linda Ronstadt and J.D. Souther's "Hearts Against The Wind".
Souther was more of a behind the scenes player though he did have a number of solo albums and 2 Pop hits with "You're Only Lonely", #7 in 1979, and a duet with James Taylor, "Her Town Too", #11 in the spring of '81. As a songwriter, he was part of a handful of Eagles hits including "Heartache Tonight" and worked with a number of other "Urban Cowboy" soundtrack artists, Bob Seger, Dan Fogelberg, and Bonnie Raitt. He had a longstanding relationship with Ronstadt (and they dated for a period-oh and Stevie Nicks too). He also connects to Poco as a member of the Souther-Hillman-Furay Band as Richie Furay was another of the original Poco members. They recorded 2 albums in '74 and '75 and reached the top 40 on the Hot 100 in 1974 with "Fallin' in Love".
One of the best things I've learned today is that Souther co-wrote the amazing Dion Henley song "The Heart of The Matter" with Henley and Mike Campbell of Tom Petty & The Heartbreakers. This song was out at the time of my break-up after a rocky 5-year relationship. The lyrics were especially poignant, "I'm learning to live without you now" and "the more I know, the less I understand, all the things I thought I knew, I'm learning again". The song is from the perspective of the one who was broke up with, which was the opposite of the situation, but the song just resonated in such a major way. Today seems to be a good day to "get down to the heart of the matter."
The Sound of the Heartland Leads Down Many Paths, Including a Pivotal Moment in my Life
MICHAEL STANELY BAND           He Can't Love You (1)
The early '80s was a major time for what is termed Heartland Rock and actually, the description didn't take form until some time in the '80s. Certainly, its origins come from the '60s and '70s, drawing from artists like Creedence Clearwater Revival, Bob Dylan, Bob Seger, and Bruce Springsteen. Though it is most associated with artists from the Midwest and Rust Belt, as evidenced by Springsteen certainly, it is more about a working-class ethos that brings together elements of rock, folk, and country. From the core of the sub-genre connections can be made to Southern Rock, Americana, Alt-Country, and even the current state of commercial Country.
The Michael Stanley Band's hometown is Cleveland, Ohio and they were superstars in their region. "He Can't Love You" embodies the playful side of the sound, incorporating the sax driven sound of upbeat Springsteen (Clarence Clemmons from the E Street Band provides the sax solo on this) and alluding to the powerhouse style that Huey Lewis and the News would expand upon throughout the decade. This is the side of this genre that I was most drawn to. Coming from their breakthrough album, aptly titled "Heartland", this single proved to be their biggest national success, reaching #33 on the Billboard Hot 100. Their 1983 song "My Town" also cracked the top 40 at #39 but bested 'Love You' in Pop airplay, reaching #29. They were able to land another single from the album, the ballad "Lover" on the Hot 100 at #68. I also charted the upbeat rocker "Carolyn" (#148) from the album. In total, they placed 7 singles on the Hot 100 between 1980 and 1983. Also, the lead track from the "North Coast" album in 1981, "In The Heartland" (a pattern emerges), made the Rock tracks top 10 and did quite well on my chart as well.
After 1983, the band sputtered out and Stanley has put out quite a number of albums in the last 30 years, but none have charted. In 1987 he became a local TV personality, on "PM Magazine" and then "Cleveland Tonight" and since 1990 he has been the afternoon DJ on Classic Rock station WNCX in his hometown. The lead singer on 'Love You' was Kevin Raleigh (he shared lead vocals with Stanley). Before his 10 years with MSB (as they were affectionately called by their fans), he had been in bands with ex-members of the Raspberries (also from Ohio) and with Neil Giraldo (best known as Pat Benatar's professional and romantic partner). He had a minor solo charter in 1989 with "Moonlight On Water" (Hot 100 #60). The following year Laura Branigan's version of the song went one step higher to #59.
Eric Carmen had been the lead singer of the Raspberries during their run from 1970-75, with 3 songs making the top 20; "Go All The Way" (Hot 100 #5) and "I Wanna Be With You" #16 in 1972 plus my personal favorite, "Overnight Sensation (Hit Record)", #18 in 1974. That song is one of the most important records of my childhood as it was on the first episode of American Top 40 that I had ever heard. It was for the Billboard chart the week of October 19, 1974, and the song was #30, up from #36. I had never heard it before, and this moment became the realization of what music I was missing on NYC radio. This also became the epiphany for me to commence my own weekly personal chart. A certainly pivotal moment in my life. The song is a Power Pop dynamo: understated verses, explosive chorus with layers and harmonies, a sax bridge, big drums, and a false ending. It was everything my 13-year-old-self wanted from a song. And it was about getting a hit record ("I just want a hit record, wanna hear it on the radio, want a big hit record, one that everybody's got to know". I need to pause and listen again. This is my life.
Another notable aspect of that week's American Top 40 countdown was that "Beach Baby" by First Class (a huge favorite of mine and my sister) dropped from #4 to #26, a seemingly precipitous drop. Both of these songs owe a lot to the Beach Boys, 'Sensation' more to the "Good Vibrations" side and this to the "Surfin' USA" side. Now I'm pretty sure I like this one more than any Beach Boys song because it came out a formidable time for me AND holds up really well. That week's chart featured the Southern Rock stalwart "Sweet Home Alabama" at #15 along with other personal favorites; Carole King's "Jazzman" at #5 with more saxophone, Reunion's "Life Is A Rock (But The Radio Rolled Me)" moving up to #21 (I couldn't get enough of the rapid-fire pop culture references), Kiki Dee's exuberant rocker "I've Got The Music in Me" debuting at #36 (another false ending) and her friend Elton John's "The Bitch is Back" moving up to #6 (ok so I must have really liked sax at this moment in time).
On this week's chart in 1981, Carmen's "All For Love" (#131) was not making a huge impact on me. Carmen had morphed into a reliable Pop balladeer but certainly had become a bit boring by this point. His first 2 solo albums were enjoyable for me and yielded a number of big songs for me. "All By Myself" and "Sunrise" in 1976 made my top 100 of the year with both growing in stature over time. The last time I re-did my top songs of '76 they came in at #10 and #15. An interesting thing about "Sunrise" is that the last third of this mid-tempo Pop song transforms into a blistering piano and guitar-driven rave-up. Actually, it's a full 2 minutes of the 5:22 song. I feel there are strong similarities to the ending section of "Love Lies Bleeding" by Elton John.
Neil Giraldo over the years has worked with Rick Derringer, Kenny Loggins, and Rick Springfield to name a few, but his collaboration with Pat Benatar is his signature calling card. They were introduced by songwriter and producer Mike Chapman, a notorious behind the scenes music guy. He and his oft songwriting partner Nicky Chinn contributed 3 songs to her debut album "In The Heat Of The Night", all covers of previous UK hits. Giraldo contributed the Hot 100 #16 song "We Live For Love", 1 of the few originals on that album. Benatar's song "You Better Run" was the second video played on MTV and was another cover, this time of the Young Rascals top 20 hit from 1966, something I was unaware of. 1981 was the breakthrough year for Benatar as "Hit Me With Your Best Shot" (#120) had just become her first top 10 on the Hot 100 the final week of 1980. Her album "Crimes Of Passion" would become her best selling with over 4 million sold in the States. It also led to her first Grammy award for Best Female Rock Vocal Performance. The controversial "Hell is For Children" (#17) was a Rock tracks #7 and probably my true favorite of her earlier songs (though 'Shot' at the time did reach #1 on my personal chart). 'Hell' was a #2 on my chart and "Treat Her Right" peaked at #3.
Benatar re-worked Kate Bush's "Wuthering Heights" (153)on "Crimes Of Passion" as well. She tried to emulate the sonic singularity of Bush to a degree at the beginning of the song but in the end, it's Benatar. The original song was a UK #1 in 1978 when Bush was just 19 years old. She was the first female artist to reach #1 with a self-written song in the UK. Since then, she has become a national treasure, winning the Best British Female Artist award in 1987. She has never won a Grammy though but nominated 3 times. In October 1980 her UK top 10 hit "Babooshka" reached #47 on my chart. It would be 5 years before she would show up again with 'Running Up That Hill".
I've written about Mike Chapman before, in reference to Blondie and The Knack. The Chapman/Chinn team were responsible for 19 UK top 40 hits and 5 #1's during just the period of 1973-74 including the Sweet song "Ballroom Blitz". Their biggest hit in the States before Blondie was 1978's #1 song "Kiss You All Over" by Exile while Chapman also produced Nick Gilder's 1978 #1 "Hot Child in The City". In the '80s Chapman continued a streak of big hits with songs like "Mickey", "Better be Good To Me" and Pat Benatar's "Love is A Battlefield". Exile had a song starting to move up my chart this week in 1981, "You're Good For Me" (108), that would peak at #16. It was not written by Chapman/Chinn but the songwriting team gave them their only other top 40 in the States, "You Thrill Me" and a top 40 hit in the Netherlands in 1982, the title track to their album "Heart And Soul". You might recall that Huey Lewis and the News reached #8 on the Hot 100 with the same song in the fall of 1983, the first single from their juggernaut album "Sports".
This now requires a look back. Huey Lewis (then Huey Louis) was a member of the Country-Rock band Clover in the mid-'70s. This was a San Francisco bay area band that released 2 albums in 1970 and '71 and ended up moving to England. That is when Lewis became involved and they released an album in 1997 called "Unavailable" produced by Robert "Mutt" Lange best known for producing albums by AC/DC, Foreigner, and Def Leppard as well as being Shania Twain's '90s producer and husband. In 1978 he also produced the album "Cabin Fever" by the Michael Stanley Band. Seemingly from left field, members of Clover became the backing musicians on Elvis Costello's debut album "My Aim Is True" though Lewis was not a part of that. Originally Stiff Records wanted Costello to be a songwriter for Dave Edmunds. Through Edmunds's reluctance, the demos were recorded with Clover members and those recordings convinced the label to put out his own album. Costello was still working his day job when the album was released and the record company asked him to quit, saying they would match his salary as well as recording equipment. He was featured on the cover of a music magazine within 3 weeks and claimed it was "an overnight success after 7 years" (insert Raspberries song). "Alison", "Watching The Detectives", "(The Angels Wanna Wear My) Red Shoes" are all now classics while the album is considered by many as one of the best of all-time.
After this aside, a second Clover album, again produced by Lange, was released in late '77 but the group soon disbanded after getting no traction with it. What is most interesting is where members went from there (but not back to Elvis Costello). John McFee joined the Doobie Brothers. Jeff Porcaro co-founded Toto (there has to be a six degrees of Toto thing, probably 3 degrees), Alex Call had a solo career and wrote the Tommy Tutone hit "Jenny 867-5309". John Ciambotti worked with Americana artists Lucinda Williams, John Prince and Carlene Carter. Carter herself, daughter of Johnny Cash, recorded 2 of Clover's Call-penned songs "Mr. Moon and "Love is Gone". Lewis and Sean Hopper went on to form the News with Alex Call contributing the song 'Bad Is Bad" to the album "Sports".
The actual formation of Huey Lewis & The News came from the melding with members of another bay area group called Soundhole. In a strange twist, that band had spent time backing up another well-known guy, Van Morrison. Three members of Soundhole joined Lewis and Hopper to create Huey Lewis & the American Express. Once they got a record contract with Chrysalis Records the name was changed to the News so as not to cause infringement issues with the credit card company. Their debut album came out in 1980 with an opening track "Some Of My Lies Are True (Sooner Or Later)" that placed them more in a Romantics/Tommy Tutone vein, a sort of New Wave/Power Pop sound that a lot of bands were trying to achieve at the time. It did not light up the charts. For the second album, the lead single "Do You Believe in Love" was written by Clover producer Lange and started their top 10 assault over the next 6 years.
The funny thing is just this weekend I was cataloging my old albums and cd's now that things are moving into my new music studio and I came across ex-Clover member Alex Call's debut album (this is among 1000's of albums and CDs I own), not knowing it would come into play with the narrative today. Such is my wonderous music life. Call's "Just Another Saturday Night (High School Killing)" fits the heartland mode we have veered so off-track from here. But that's part of the fun.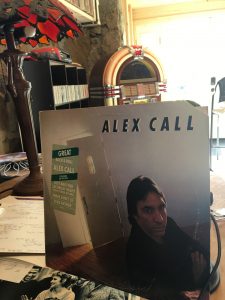 To be continued…
Subscribe to access this content.
---
Warning
: file_get_contents(): SSL operation failed with code 1. OpenSSL Error messages: error:14090086:SSL routines:ssl3_get_server_certificate:certificate verify failed in
/data/webs/beyondradio.com/beyondradio.dev.matraex.com/htdocs/wp-content/themes/mtx_coverpage/functions.php
on line
179
Warning
: file_get_contents(): Failed to enable crypto in
/data/webs/beyondradio.com/beyondradio.dev.matraex.com/htdocs/wp-content/themes/mtx_coverpage/functions.php
on line
179
Warning
: file_get_contents(https://beyondradio.com/wp-content/themes/mtx_coverpage/css/style.css): failed to open stream: operation failed in
/data/webs/beyondradio.com/beyondradio.dev.matraex.com/htdocs/wp-content/themes/mtx_coverpage/functions.php
on line
179
Warning
: file_get_contents(): SSL operation failed with code 1. OpenSSL Error messages: error:14090086:SSL routines:ssl3_get_server_certificate:certificate verify failed in
/data/webs/beyondradio.com/beyondradio.dev.matraex.com/htdocs/wp-content/themes/mtx_coverpage/functions.php
on line
180
Warning
: file_get_contents(): Failed to enable crypto in
/data/webs/beyondradio.com/beyondradio.dev.matraex.com/htdocs/wp-content/themes/mtx_coverpage/functions.php
on line
180
Warning
: file_get_contents(https://beyondradio.com/wp-content/themes/mtx_coverpage/css/pagestyle.css): failed to open stream: operation failed in
/data/webs/beyondradio.com/beyondradio.dev.matraex.com/htdocs/wp-content/themes/mtx_coverpage/functions.php
on line
180